1 aizvietošanas variants atrasts
Esošais Sūknis - Daudzpakāpju
Produkta nosaukums
Jet 112 M
Elektropieslēgums
1x230 V
Caurules pieslēgums
Rp 25
Produkta nosaukums
HiMulti 3-25 P 1~
Elektropieslēgums
1x230 V
Caurules pieslēgums
Rp 25
Attālums no grīdas līdz centram
147 mm
Šķidruma temperatūras diapazons
+5 - +35 °C
Komentāri
Iespējamas uzstādīšanas izmaiņas, nomaiņas sūknim ir atbilstošs savienojuma diametrs.
The replacement pump has a patented suction design, which means quiet operation and higher capacity. All fluid-affected parts are made of non-corrosive material.
Produkta informācija
HiMulti 3-25 P 1~
HiMulti 3-25 P 1~
Artikula Nr. : 4244149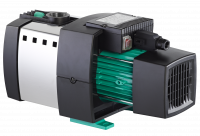 Your advantages

Simple: Wilo-Connector (electrical quick-connector), on/off switch, filling and emptying devices, larger foot fastening
Efficient: Highly efficient hydraulics, low electricity consumption and very compact thanks to motor optimisation
Economical: smaller motor for optimum fulfilment of requirements
Low noise (noise level between 56 dBA and 64 dBA)
Version as domestic pump (pump for domestic water supply) with new pump design
Construction
Multistage centrifugal pump in non-self-priming version (HiMulti 3) or self-priming version (HiMulti 3 P)

Application

Water supply (drinking water approval in accordance with ACS / in S1-version also in accordance with WRAS)
Sprinkling
Irrigation and spraying
Rainwater utilisation
Equipment/function

Directly flanged motor
Thermal motor protection switch for version 1~230 V
Scope of delivery

Pump
Two plastic connectors with gaskets for manual connection to the pipes
Wilo-Connector (electrical quick connector)
Installation and operating instructions
Technical data

Mains connection: 1~230 V, 50 Hz
Perm. fluid temperature: 0 °C to +40 °C (+55 °C for 10 min)
Perm. ambient temperature: -15 °C to +40 °C
Permissible storage temperature: -30 °C to +60 °C
Max. permissible operating pressure: 8 bar
Max. permissible inlet pressure: 3 bar
Protection class: IP X4
Suction side connection: Rp1
Connection on pressure side: Rp1
Materials

Pump housing in Technopolymer with ACS and WRAS drinking certifications
Impellers and stage casing made of Noryl 30% GF with drinking water certification in accordance with ACS and WRAS
Pump cover and shaft made of stainless steel
Mechanical seal made of ceramic/carbon
Bracket HiControl
Artikula Nr.: 4027326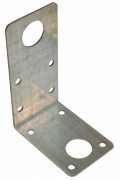 Mount HiControl:
Wall bracket for mounting Wilo-HiControl 1-EK.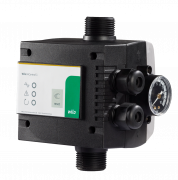 HiControl 1-EK
The Wilo HiControl 1 series is used for water supply pumps to enable automatic operation.

Simple installation

Especially compact design makes it suitable for many types of installation locations

High operational reliability due to electronic fault signal

Protection of the connected pumps due to built-in protection against low water levels

Simple operation due to clear operating state display

No additional diaphragm pressure vessel required

Perfect corrosion protection, due to rust-free materials