1 aizvietošanas variants atrasts
Esošais Sūknis - Daudzpakāpju
Produkta nosaukums
Gardenjet Inox 82 M
Elektropieslēgums
1x230 V
Caurules pieslēgums
Rp 25
Produkta nosaukums
WJ 203 1~
Elektropieslēgums
1x230 V
Caurules pieslēgums
Rp 25
Nominālā jauda P2
0,75 kW
Komentāri
Iespējamas uzstādīšanas izmaiņas, nomaiņas sūknim ir atbilstošs savienojuma diametrs.
Produkta informācija
WJ 203 1~
WJ 203 1~
Artikula Nr. : 4081225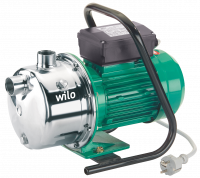 Your advantages

User-friendly thanks to its light weight, compact size and practical carrying handle
High supply guarantee due to hydraulic output, self-priming up to 8 m; even at a low flow rate
Robust stainless steel construction for durable operation, impeller, shaft and housing made of AISI 304
IE3-IEC three-phase AC motor (≥ 0.75 kW)
Construction
Self-priming multistage centrifugal pumps.

Application

Pumping water from wells
Filling, pumping empty, transferring by pumping, irrigation and sprinkling
As emergency pump for overflows
Equipment/function

With or without handle, depending on the version
For single-phase motor ( 1~ 230 V):
Connection cable with plug
On/off switch
Thermal motor protection switch
Scope of delivery
Pump with or without carrying frame, depending on the version
Installation and operating instructions
Technical data

Mains connection 1~230 V, 50 Hz or 3~400 V, 50 Hz
Inlet pressure max 2 bar
Fluid temperature max. +5 °C to +35 °C
Max. operating pressure 6 bar
Protection class IP44
Suction- and pressure-side connection G 1
Materials

Pump housing made of 1.4301 stainless steel
Impeller made of 1.4301 stainless steel
Shaft 1.4005 stainless steel
Mechanical seal made of ceramic/carbon
Diffuser/injector made of Noryl
Seals made of NBR
Bracket HiControl
Artikula Nr.: 4027326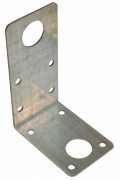 Mount HiControl:
Wall bracket for mounting Wilo-HiControl 1-EK.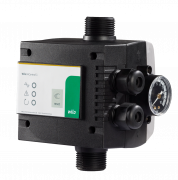 HiControl 1-EK
The Wilo HiControl 1 series is used for water supply pumps to enable automatic operation.

Simple installation

Especially compact design makes it suitable for many types of installation locations

High operational reliability due to electronic fault signal

Protection of the connected pumps due to built-in protection against low water levels

Simple operation due to clear operating state display

No additional diaphragm pressure vessel required

Perfect corrosion protection, due to rust-free materials