2 aizvietošanas varianti atrasti
Esošais Sūknis - Daudzpakāpju
Produkta nosaukums
Aquajet 82 M-20
Elektropieslēgums
1x230 V
Caurules pieslēgums
Rp 25
Produkta nosaukums
HWJ 20 L 203 1~
Elektropieslēgums
1x230 V
Caurules pieslēgums
Rp 25
Nominālā jauda P2
0,75 kW
Komentāri
Iespējamas uzstādīšanas izmaiņas, nomaiņas sūknim ir atbilstošs savienojuma diametrs.
Replacement pump has pump housing made of stainless steel.
Produkta informācija
HWJ 20 L 203 1~
HWJ 20 L 203 1~
Artikula Nr. : 2549380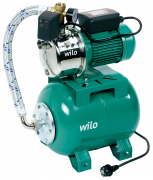 Your advantages

Ideal for outdoor applications (hobby, garden)
Rust-free stainless steel prevents corrosion, even with prolonged service life
Reduction of switch-on frequency and avoidance of fluid hammer, thanks to diaphragm pressure vessel with 20/50 l capacity
Electrical and hydraulic connections already in place, quick and safe to install
Construction
Self-priming water-supply unit .

Application

Water supply
Sprinkling
Irrigation and spraying
Pumping water from wells and out of tanks lying at greater depths
Equipment/function

Directly flanged motor
Pressure switch
Diaphragm pressure vessel (with replaceable diaphragm)
Connection cable with plug
Thermal motor protection switch
Scope of delivery

Pump
Pressure switch
Pressure gauge
Diaphragm pressure vessel (20/50 l)
Pressure hose with steel casing and screwed connection
Installation and operating instructions
Technical data

Mains connection, 1~230 V, 50 Hz
Suction head max. 8 m
Max. inlet pressure of 1 bar
Start-up pressure 1.5 bar
Variable switch-off pressure
Fluid temperature +5 °C to +35 °C
Max. operating pressure 6 bar
Protection class IP44
Connection on pressure side Rp 1
Suction-side connection G 1
Materials

Pump housing made of 1.4301 stainless steel
Impeller made of 1.4301 stainless steel
Shaft 1.4005 stainless steel
Mechanical seal made of carbon/ceramic
Stage chambers made of Noryl
Diffuser/injector made of Noryl
Seal made of NBR
Produkta nosaukums
Initial Jet System 3-4-22
Elektropieslēgums
1x230 V
Caurules pieslēgums
Rp 25
Komentāri
Iespējamas uzstādīšanas izmaiņas, nomaiņas sūknim ir atbilstošs savienojuma diametrs.
Produkta informācija
Initial Jet System 3-4-22
Initial Jet System 3-4-22
Artikula Nr. : 4185608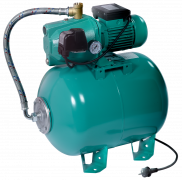 Your advantages

Automatic switching on and off, 2 tank sizes
Reduction of switch-on frequency and avoidance of fluid hammers
Construction
Self-priming water-supply unit.

Application

Water supply
Sprinkling
Irrigation and spraying
Pumping water from wells and out of tanks lying at greater depths
Equipment/function

Directly flanged motor
Pressure switch
Diaphragm pressure vessel
Single-phase motor
Connection cable with plug
Thermal motor protection switch
Scope of delivery

Pump
Connection cable (2 m) with plug
Pressure switch
Pressure gauge
Diaphragm pressure vessel (20/50 l)
Pressure hose with steel casing and screwed connection
Installation and operating instructions
Technical data

Mains connection 1~230 V, 50 Hz
Negative suction head max. 7 m
Inlet pressure max. 2 bar
Start-up pressure 1.5 bar
Variable switch-off pressure
Fluid temperature +5 °C to +35 °C
Max. operating pressure 6 bar
Protection class IPX4
Connection on pressure side Rp 1
Suction-side connection G 1
Materials

EN-GJL 200 grey cast iron pump housing
Impeller made of 1.4301 stainless steel (AISI 304); apart from Jet 3-4: Noryl
Shaft made of C10 / AISI 304 stainless steel
Mechanical seal made of ceramic/carbon + NBR + AISI 304
Diffuser/injector made of Noryl
Seals made of NBR
Tank made of steel FE P04
CW617N brass pressure switch