2 aizvietošanas varianti atrasti
Esošais Sūknis - Cirkulācija
Ražotājs
Flygt, ITT, Lowara, Xylem
Produkta nosaukums
TLCN 20-4M
Elektropieslēgums
1x230 V
Produkta nosaukums
Stratos PICO-Z 20/1-4 -150
Elektropieslēgums
1x230 V
Šķidruma temperatūras diapazons
+2 - +70 °C
Komentāri
Saderīgs, neveicot izmaiņas cauruļvadu sistēmā.
Produkta informācija
Stratos PICO-Z 20/1-4 -150
Stratos PICO-Z 20/1-4 -150
Artikula Nr.: 4216470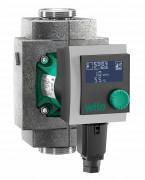 Your advantages

Manual and temperature-controlled mode for optimum operation
Identification of the thermal disinfection of the domestic hot water tank
Display of the current consumption in Watts and the cumulative kilowatt hours or of the current flow and the temperature
Stainless steel pump housing protects against bacteria and corrosion
Wilo-Connector
Construction
Glandless circulator with screwed connection, blocking-current proof EC motor and integrated electronic power control.

Application
Domestic hot water circulation systems for building services and industry.

Equipment/function
Operating modes:

Δ p-c for constant differential pressure
Temperature-controlled mode
Manual functions

Setting the operating mode
Setting of pump output (delivery head)
Setting the minimum temperature
Setting of the minimum flow
Reset function for resetting the electricity meter
Reset function for resetting to factory settings
"Hold" function (key lock) for disabling the settings
Automatic functions

Infinitely variable power adjustment according to the operating mode
Temperature control for maintaining a constant return temperature in the domestic hot water circulation system
Thermal disinfection routine (detecting and supporting the thermal disinfection of the domestic hot water storage tank)
Automatic deblocking function
Signal and display functions

Display of the current power consumption in W
Display of the cumulative kilowatt hours in kWh
Display of effective flow in m3/h
Display of the current temperature in °C
Indication of fault signals (error codes)
Equipment

Wrench attachment point on pump body
Quick electrical connection with Wilo-Connector
Blocking-current proof motor
Particle filter
Thermal insulation as standard
Scope of delivery

Pump
Thermal insulation
Wilo-Connector
Gaskets
Installation and operating instructions
Technical data

Fluid temperature of drinking water up to 3.57 mmol/l (20 °dH): +2 °C to +70 °C in short-time duty (4 h): +2 °C to +75 °C
Mains connection 1~230 V, 50 Hz
Protection class IP X4D
Threaded connection Rp ¾ and Rp 1
Max. operating pressure: 10 bar
Materials

Pump housing: Stainless steel
Impeller: Plastic
Shaft: Stainless steel
Bearing: Carbon, synthetic resin-impregnated
CONNECTOR SC1
Artikula Nr.: 4144582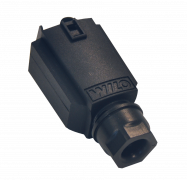 Contact, hit WS8:

Fits PICO pumps and Star-Z NOVA.
CONNECTOR ANGLE
Artikula Nr.: 4150229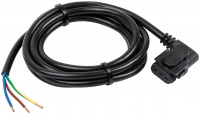 Contact, angled WS8:

Fits PICO pumps and Star-Z NOVA.
Comes with cable.
Power supply cord + WS8 connector
Artikula Nr.: 4200870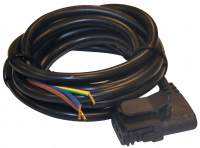 Extension cable with connector:

WS8 connector.
Cable length 2 meters.
Adapter Molex WS8
Artikula Nr.: 4522587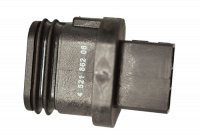 Molex connector, WS8

Fits PICO pumps and Star-Z NOVA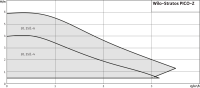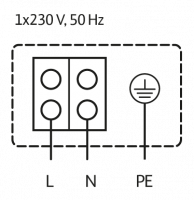 Produkta nosaukums
Star-Z 20/4 -150
Elektropieslēgums
1x230 V
Nominālā strāva
0,10/0,20/0,30 A
Šķidruma temperatūras diapazons
Max +65 °C
Komentāri
Saderīgs, neveicot izmaiņas cauruļvadu sistēmā.
Nomaiņas sūkņa apvalks ražots no sarkanā čuguna.
Produkta informācija
Star-Z 20/4 -150
Star-Z 20/4 -150
Artikula Nr.: 4081193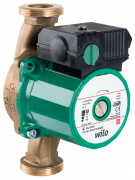 Your advantages

AC pumps with electrical quick connection
All plastic parts that come into contact with the fluid fulfil KTW recommendations
Construction
Glandless circulator with screwed connection.

Application
Domestic hot water circulation systems in the industry and building services.

Equipment/function
Operating modes:

Speed stage switching (Star-Z...-3 only)
Manual functions

Setting of the speed stages (1 speed stage, 3 speed stages with Star-Z...-3 pumps)
Equipment

Wrench attachment point on the pump body (Star-Z 25 only)
Cable inlet in possible on both sides
Quick connection with spring clips
Blocking-current proof motor
Scope of delivery

Pump
Gaskets for threaded connection
Installation and operating instructions
Technical data
Constant speed or, for Star-Z...-3, three selectable speed stages
Fluid temperature:
Drinking water up to 3.21 mmol/l (18 °dH): max. +65 °C, in short-time duty (2 h) up to +70 °C
Mains connection 1~230 V, 50 Hz
Protection class IP44
Nominal diameter Rp ½ (¾), Rp 1
Max. operating pressure 10 bar
Materials

Pump housing: bronze
Impeller: Plastic
Shaft: Oxide ceramic
Bearing: Carbon, synthetic resin-impregnated