1 aizvietošanas variants atrasts
Esošais Sūknis - Cirkulācija
Produkta nosaukums
SIL 403-14/0,25
Elektropieslēgums
3x400 V
Caurules pieslēgums
DN 32 PN16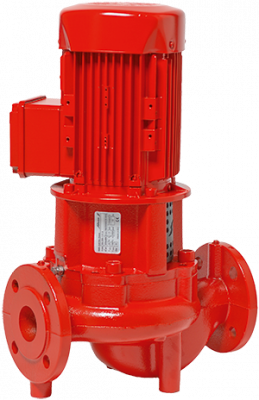 Produkta nosaukums
IL 32/140-0,25/4
Elektropieslēgums
3x400 V
Caurules pieslēgums
DN 32 PN16
Nominālā jauda P2
0,25 kW
Šķidruma temperatūras diapazons
-20 - +140 °C
Komentāri
Saderīgs, neveicot izmaiņas cauruļvadu sistēmā.
Produkta informācija
IL 32/140-0,25/4
IL 32/140-0,25/4
Artikula Nr.: 2063574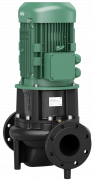 Your advantages

Reduced life cycle costs thanks to optimized efficiency
Standard condensate drainage holes in the motor housings
Can be used flexibly in air-conditioning and cooling systems, with application benefits due to direct draining of condensate via optimised lantern design (patented)
High standard of corrosion protection thanks to cataphoretic coating
High worldwide availability of standard motors (according to Wilo specifications) and standard mechanical seals
Construction
Glanded pump in in-line design with flange connection.

Application
Pumping of heating water (acc. to VDI 2035), cold water and water/glycol mixtures without abrasive substances in heating, cold water and cooling systems.

Scope of delivery

Pump
Installation and operating instructions
Technical data

Permissible temperature range -20 °C to +140 °C
Mains connection 3~400 V, 50 Hz (others on request)
Protection class IP 55
Nominal diameter DN 32 to DN 250
Max. operating pressure 16 bar (25 bar on request)
Materials

Pump housing and lantern: Standard: EN-GJL-250; optionally spheroidal cast iron EN-GJS-400-18-LT
Impeller: Standard: EN-GJL-200; special version: Bronze CuSn 10
Shaft: 1.4122
Mechanical seal: AQEGG; other mechanical seals on request
Description/construction
Single-stage, low-pressure centrifugal pump in in-line design with:

Mechanical seal
Flange connection with pressure measuring connection R 1/8
Lantern
Coupling
IEC standard motor
COUNTER FLANGE KIT DN32 PN10
Artikula Nr.: 2105577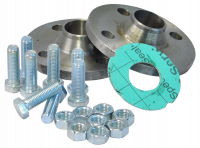 Mating flanges:

Made of steel.
Counter flanges (weld) are delivered complete (in pairs) with bolt, nut and flange gasket.
Flange gasket DN 32 PN6/10
Artikula Nr.: 502616195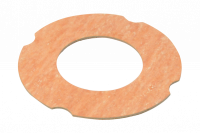 Flange gasket DN 32 PN6 / 10:

Thickness: 1 mm.
Inner diameter: 43 mm.
Outer diameter: 82 mm.
SWITCH BOX SK602N
Artikula Nr.: 2120444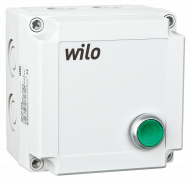 Wall-mounted unit for electrical connection of single-phase and three-phase pumps with integrated thermal winding contacts (WSK) for monitoring the winding temperature (full motor protection).
Automatic reactivation of pump after power failure and automatic fault acknowledgement after cooling off of the motor.

Equipment/function:

Full motor protection tripping unit for pumps with thermal winding contact (WSK)
Switch on/off with integrated run signal light
Terminals for external, potential-free activation/deactivation
Connection terminal strip
SWITCH BOX SK622N
Artikula Nr.: 2120445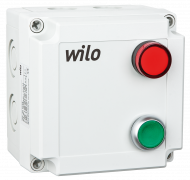 Wall-mounted unit for electrical connection of single-phase and three-phase pumps with integrated thermal winding contacts (WSK) for monitoring the winding temperature (full motor protection) and external run/fault signal.
Automatic reactivation of pump after power failure and automatic fault acknowledgement after cooling off of the motor.

Equipment/function:

Full motor protection tripping unit for pumps with thermal winding contact (WSK)
Switch on/off with integrated run signal light
Fault signal light
Terminals for external, potential-free activation/deactivation
Potential-free contacts for external run signal (SBM) and fault signal (SSM)
Connection terminal strip
Scope of delivery:

Switchgear SK 622N
4 threaded cable connections M20
Installation and operating instructions